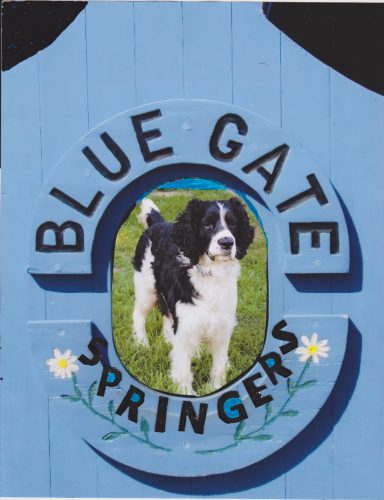 My adult springers are AKC registered puppies are sold with no breeding rights, I have AKC pedigrees on all my males and females. My puppies are pure bred AKC bloodlines.  Under the headings, our girls and our boys, are the AKC pedigrees with photos of the springers.
Our home is located in the EVANSVILLE, INDIANA, AREA, in southern Indiana. Illinois and Kentucky are our borders, along Ohio River.
When we have puppies, we can have liver & white, black & white, TRI.  Puppies will be current on all shots, worming for  their ages. They will have tails docked, dew claws removed at 3 – 7 days old.  My puppy packet will include document for your vet, showing shots and worming,  puppy food, copies of mom and dads AKC pedigrees, photo of mom and dad, contract, puppy birth document, my blue gate business card.
Our springers are medium size 40-50 lbs.  Puppies are sold, for pet homes only, no breeding rights.  All my springers are AKC registered.
VISITS,   Are by appointment only.   Vet checks for puppies are done at 8 weeks of age. After this you may pick out a puppy, I will post  photos of them on my website under puppies.    Puppies usually go home at 9-10 weeks of age. No puppy is placed with out a phone CONVERSATION. I accept CASH ONLY on puppy pick ups
SPRINGER FOOD puppies go home on Purina Pro puppy food, lamb and rice. I order from Chewey or amazon on line.
I reserve the right at any time to decide that you are not a good choice for one of my puppies and I will not place one in your home.
All my current dogs are PRA tested, all my males are DNA tested through AKC.
ALL MY SPRINGER PUPPIES AND ADULT DOGS REQUIRE  A CONVERSATION.   812 217 9477.
THERE ARE DOGS AND THEN THERE ARE SPRINGERS.
Feel free to call, text, email, for updates on litters.
CELL    812 217 9477    Leave a message
E-MAIL  bluegatespringers@gmail.com